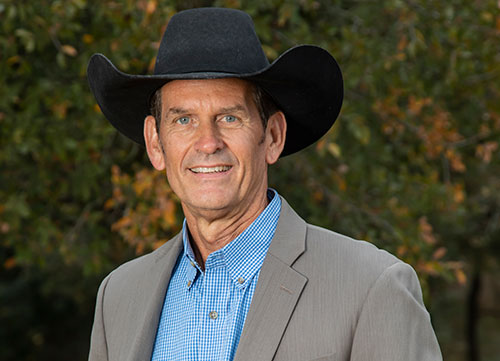 Jeff Higgs
Agent
---
Jeff Higgs - North Texas Realtor
Jeff Higgs, a 5th generation Denton County Resident became a real estate agent in 2009 and has found great success and enjoyment in farm and ranch real estate. This is due in part to his love for land and desire to learn the intricacies of this type of real estate over the past 13 years.
Prior to his career in real estate Jeff owned a convenience store in Sanger, "The Sportsman". This allowed him to create an even stronger connection with the community of North Texas. With his friendly persona and years of experience working with people, he has created long lasting relationships with his clients. These relationships and his desire to serve those around him has caused him to repeatedly have returning clients.
Jeff enjoys spending time outdoors backpacking, and hunting, and has taught bible classes at his church for 35 years. Jeff and his wife Kathy like to spend their free time with their family and grandkids.
000 State School Road, Denton, TX 76210 Denton TX Denton Denton Texas commerciallot

1490000

000 state school road, denton, tx 76210

Acres:

5.55 ±

County:

Denton

City/St:

Denton, TX

5.552

1653417733

1545428707

0

Status:

Available

Price:

$1,490,000

11+/- Acres TBD Huddleston Road, Sunset, TX Montague TX Montague Sunset Texas recreational land

220000

11+/- acres tbd huddleston road, sunset, tx

Acres:

11 ±

County:

Montague

City/St:

Sunset, TX

11

1648237503

1646255571

0

Status:

Available

Price:

$220,000

Acres:

0.73 ±

County:

Denton

City/St:

Sanger, TX

0.731

1648155868

1590523387

0

Status:

Available

Price:

$399,900

16 Acres Prairie Grove Rd Valley View, TX 76272 Cooke TX Cooke Valley View Texas rancheslot

489000

16 acres prairie grove rd valley view, tx 76272

Acres:

16.3 ±

County:

Cooke

City/St:

Valley View, TX

16.3

1654181636

1638824921

0

Status:

Available

Price:

$489,000

2575 Switzer Road, Sanger Denton TX Denton Sanger Texas residential propertysingle family

1799000

2575 switzer road, sanger

Acres:

3.38 ±

County:

Denton

City/St:

Sanger, TX

3.378

1654178221

1654119457

0

Status:

New Listing

Price:

$1,799,000

residentialproperty singlefamily

Residential Property

Single Family

325 S Main St., Jacksboro, TX Jack TX Jack Jacksboro Texas commercial

600000

325 s main st., jacksboro, tx

Acres:

1.65 ±

County:

Jack

City/St:

Jacksboro, TX

1.65

1653417603

1653082301

0

Status:

New Listing

Price:

$600,000

Acres:

4 ±

County:

Denton

City/St:

Krum, TX

4

1655147110

1649099026

0

Status:

Available

Price:

$199,000

59+ Acres 4370 County Rd. 660, Farmersville, TX 75442 Collin TX Collin Farmersville Texas ranches

1250000

59+ acres 4370 county rd. 660, farmersville, tx 75442

Acres:

59.46 ±

County:

Collin

City/St:

Farmersville, TX

59.461

1655147282

1652132805

0

Status:

New Listing

Price:

$1,250,000

77.77+/- Acres TBD FM 2450 & Odom Road Denton TX Denton Sanger Texas undeveloped land

2799000

77.77+/- acres tbd fm 2450 & odom road

Acres:

77.77 ±

County:

Denton

City/St:

Sanger, TX

77.77

1654700698

1646762456

0

Status:

Available

Price:

$2,799,000

8 acres 2845 View Road, Sanger Denton TX Denton Sanger Texas commerciallot

4500000

8 acres 2845 view road, sanger

Acres:

8 ±

County:

Denton

City/St:

Sanger, TX

8

1651500122

1646432130

0

Status:

Available

Price:

$4,500,000

889 Huddleston Rd., Sunset, TX Montague TX Montague Sunset Texas farmsranchesresidential propertyhorse propertysingle family

599000

889 huddleston rd., sunset, tx

Acres:

21.98 ±

County:

Montague

City/St:

Sunset, TX

21.98

1655243521

1653679955

0

Status:

New Listing

Price:

$599,000

farms ranches residentialproperty horseproperty singlefamily

Farms

Ranches

Residential Property

Horse Property

Single Family

City Lot at 5th & Wayne, Sanger, TX 76266 Denton TX Denton Sanger Texas undeveloped landcommerciallot

59000

city lot at 5th & wayne, sanger, tx 76266

Acres:

0.42 ±

County:

Denton

City/St:

Sanger, TX

0.42

1651073282

1621879230

0

Status:

Available

Price:

$59,000

undevelopedland commercial lot

Undeveloped Land

Commercial

Lot

House on 2 Acres, 5568 FM 455 W, Sanger Denton TX Denton Sanger Texas residential propertycommercial

519000

house on 2 acres, 5568 fm 455 w, sanger

Acres:

2.13 ±

County:

Denton

City/St:

Sanger, TX

2.125

1650568983

1618845614

0

Status:

Available

Price:

$519,000

residentialproperty commercial

Residential Property

Commercial

TBD Sam Bass Rd. W , Sanger, TX 76266 Denton TX Denton Sanger Texas commercialbusiness opportunity

299000

tbd sam bass rd. w , sanger, tx 76266

Acres:

1.4 ±

County:

Denton

City/St:

Sanger, TX

1.4

1653331296

1653328304

0

Status:

New Listing

Price:

$299,000

commercial businessopportunity

Commercial

Business Opportunity