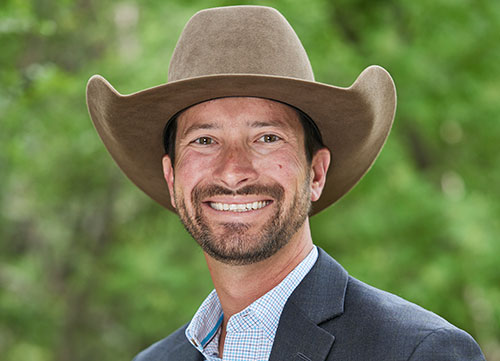 Justin Newland
Owner / Broker
---
Justin Newland - North Texas Realtor
With deep roots in Denton, Justin comes from a line of Denton County residents extending back 6 generations. This history, and his 15 years of experience selling real estate in Denton, Cooke, Wise, and Montague Counties has made him highly knowledgeable of the North Texas area. Justin has been a full time real estate agent since receiving his degree from Texas A&M in 2006. Through the good times and bad, real estate has not only been Justin's career but his passion. Real Estate allows him to spend more time outdoors than behind a desk, and affords him the opportunity to continuously connect with new people as well as reconnect with old friends.
He has been an associate broker since 2011, and in 2017 was made a partner and part owner of Newland Real Estate.
With a degree in Ranchland Management and Ecology Justin is equipped to help you find your perfect recreational ranch, home with acreage, or single family development property. Justin has been involved in several leadership development opportunities, including the United Way Project Blueprint Leadership training and Leadership Denton, and is an active member at Denton Bible Church. In his free time he enjoys spending time with his wife and two sons, hunting, fishing, and being outdoors.
(Lot 10) 4.05 acres Gordonville Rd in Lost Pines at Lake Texoma Grayson TX Grayson Gordonville Texas lot

189000

(lot 10) 4.05 acres gordonville rd in lost pines at lake texoma

Acres:

4.05 ±

County:

Grayson

City/St:

Gordonville, TX

4.05

1663360449

1634574459

0

Status:

Available

Price:

$189,000

200 CR 108, Whitesboro, Texas 76273 (115 Acres) Cooke TX Cooke Whitesboro Texas ranchesrecreational landundeveloped landlot

1725000

200 cr 108, whitesboro, texas 76273 (115 acres)

Acres:

115 ±

County:

Cooke

City/St:

Whitesboro, TX

115

1664997216

1661452931

0

Status:

New Listing

Price:

$1,725,000

ranches recreationalland undevelopedland lot

Ranches

Recreational Land

Undeveloped Land

Lot

Acres:

34 ±

County:

Denton

City/St:

Denton, TX

34

1655415721

1644876233

0

Status:

Available

Price:

$8,886,240

4517 Old Sherman Rd, Whitesboro, TX Grayson TX Grayson Whitesboro Texas ranchesresidential propertysingle family

1150000

4517 old sherman rd, whitesboro, tx

Acres:

2.34 ±

County:

Grayson

City/St:

Whitesboro, TX

2.34

1664203213

1658419365

0

Status:

New Listing

Price:

$1,150,000

ranches residentialproperty singlefamily

Ranches

Residential Property

Single Family

6419 Green Valley Circle Denton TX Denton Aubrey Texas ranchesresidential property

1295000

6419 green valley circle

Acres:

13 ±

County:

Denton

City/St:

Aubrey, TX

13

1664566735

1662587462

0

Status:

New Listing

Price:

$1,295,000

ranches residentialproperty

Ranches

Residential Property

Lot 6 Rector Rd & FM 156 Sanger, TX 76266 Denton TX Denton Sanger Texas lot

180000

lot 6 rector rd & fm 156 sanger, tx 76266

Acres:

2.6 ±

County:

Denton

City/St:

Sanger, TX

2.6

1664998549

1638471666

0

Status:

Available

Price:

$180,000

TBD CR 127, Whitesboro (25 Acres) Cooke TX Cooke Whitesboro Texas recreational landundeveloped landlot

375000

tbd cr 127, whitesboro (25 acres)

Acres:

25 ±

County:

Cooke

City/St:

Whitesboro, TX

25

1664997425

1661527954

0

Status:

New Listing

Price:

$375,000

recreationalland undevelopedland lot

Recreational Land

Undeveloped Land

Lot

TBD CR 4045, Ector TX (95 Acres) Fannin TX Fannin Ector Texas hunting landrecreational landundeveloped landlot

855000

tbd cr 4045, ector tx (95 acres)

Acres:

95 ±

County:

Fannin

City/St:

Ector, TX

95

1664566775

1662128025

0

Status:

New Listing

Price:

$855,000

huntingland recreationalland undevelopedland lot

Hunting Land

Recreational Land

Undeveloped Land

Lot